Quattro means IV (four). He is the middle brother of Quinton and Trey. His father was Bryon Arclight but was betrayed and came back as Vetrix. Quattro is aged 17 and is the rival of Reginald Kastle. Like his other brothers, he wears medieval-like clothes and has yellow and red hair that spikes out. He received his scar on his face while saving Rio from a fire while dueling. He died while dueling Nash (aka Shark) and his body was absorbed into Barian World.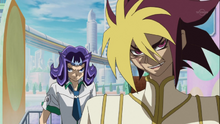 Ad blocker interference detected!
Wikia is a free-to-use site that makes money from advertising. We have a modified experience for viewers using ad blockers

Wikia is not accessible if you've made further modifications. Remove the custom ad blocker rule(s) and the page will load as expected.