Alito is one of the members of the Barian Emperors. Mizar describes him as a simple person but he is actually seems to be the most childish of the seven and complains that he doesn't want to be sent to the human world and says that he doesn't want to have a boring job. In his past, he was a gladiator that is known for defeating his opponents with his bare hands but was later executed under false even though he pleaded innocent and the prince defending him. It turned out that Don Thousand was possessing the prince. An amount of unknown years later, he became one of the Barian Emperors because his soul is connected to one of the Mythyrian Number which sealed Don Thousand's power.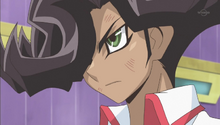 Ad blocker interference detected!
Wikia is a free-to-use site that makes money from advertising. We have a modified experience for viewers using ad blockers

Wikia is not accessible if you've made further modifications. Remove the custom ad blocker rule(s) and the page will load as expected.